School News
April 22-26, 2019
Posted on

April 23rd, 2019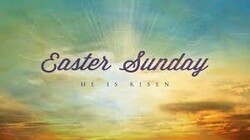 Dear Parents,
On behalf of all the staff at Holy Redeemer we pray that you and your families have a blessed and hope-filled Easter.  
A message from Pope Francis on this Easter Sunday:
"Jesus is risen from the dead!
This message resounds in the Church the world over, along with the singing of the Alleluia: Jesus is Lord; the Father has raised him and he lives forever in our midst.
Jesus had foretold his death and resurrection using the image of the grain of wheat. He said: "Unless a grain of wheat falls into the earth and dies, it remains alone; but if it dies, it bears much fruit" (Jn 12:24). And this is precisely what happened: Jesus, the grain of wheat sowed by God in the furrows of the earth, died, killed by the sin of the world. He remained two days in the tomb; but his death contained God's love in all its power, released and made manifest on the third day, the day we celebrate today: the Easter of Christ the Lord."
God Bless,
Peter Rachmistruk|
Principal
Upcoming Important Dates:
Please find attached an April calendar for your reference:
April 22 - Easter Monday (no school)

April 23 - Class and team photos

April 25 - Railway Safety Presentation

April 26 - Spring Family Dance (information below)
Information
Please find attached the April snack schedule for our nutrition program:
Parents, please find attached information regarding the Grade 8 Farewell meat order fundraiser. Thank you in advance of your support!!
Meat Sale Fundraiser Information.pdf 
Meat Fundraiser Order Form.pdf 
Together with our School Council (PAC) we will be hosting a spring dance on Friday, April 26. We hope to see you there! Please see poster for more info:
Faith Corner
For Christians, Easter Sunday celebrates one of the greatest days in history, when Jesus, the son of God defeated death and rose from the grave.
Lord, the resurrection of Your Son has given us new life and renewed hope.
Help us to live as new people. Grant us wisdom to know what we must do,
the will to want to do it, the courage to undertake it, the perseverance to continue to do it, and the strength to complete it (lords-prayer-words.com).