School News
April 8-12, 2019
Posted on

April 8th, 2019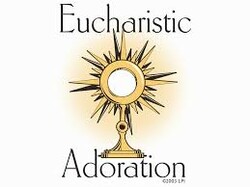 Dear Parents,
This Thursday at 8:15am our school community will gather for Adoration mass. Eucharistic Adoration is adoring or honouring the Eucharistic Presence of Christ. After mass, students will spend some time in quiet reflection in our chapel. The Host will be present in a monstrance, which is an open or transparent receptacle in which the consecrated Host is exposed for veneration.
During Eucharistic Adoration, students will remain "silent" in His Presence and open themselves to His Graces which flow from the Eucharist.
By worshiping the Eucharistic Jesus, we become what God wants us to be. Like a magnet, the Lord draws us to Himself and gently transforms us.
God bless,
Peter Rachmistruk
Principal
Upcoming Important Dates:
Please find attached an April calendar for your reference:
April 11 - Adoration mass (at Holy Redeemer)

April 12 - Grade 5-6 Badminton tournament (for students on the grade 5-6 Rec badminton team)

April 15 - School Council (PAC) meeting at 6:30pm

April 17 - Extra kindergarten programming day

April 18 - Holy Thursday ceremony (at Holy Redeemer)

April 23 - Class and team photos

April 25 - Railway Safety Presentation

April 26 - Spring dance (information below)
Information
Please find attached the April snack schedule for our nutrition program:
OLPH Parish news - Please see attached information regarding sacrament registration:
Sacrament Registration Update.pdf 
Together with our School Council (PAC) we will be hosting a spring dance on Friday, April 26. Please see poster for more info:
Faith Corner
Loving God,
Today we remember in our prayers the members of the Humboldt Hockey organization, their family and friends and all who have been affected by the terrible accident that occurred on April 6, 2018. Please welcome all who have died into your loving embrace. Bring healing to the injured and comfort to the grieving. Surround the Humboldt community with your peace and love and help them to know they are not alone in their sorrow. Help us to reach out with loving and prayerful hearts to all those in need.
Amen