School News
March 18-22, 2019
Posted on

March 18th, 2019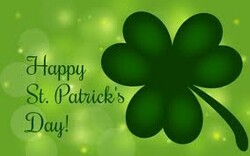 Dear Parents,
This week we will be having parent/teacher/student conferences on Tuesday and Wednesday. We look forward to discussing your child's accomplishments and address any areas for improvement. Thank you for your support as we all work together to ensure your child feels successful.
We are very excited to be hosting a Mental Health and Wellness day on Wednesday. Students will be participating in a day's worth of activities that increase awareness and will have opportunities to practice new skills focused around mental health. This year's theme is "Sea's the Day". Students can wear PJ's, comfy clothing or dress tropical (beach theme)! We will have lunch together in the gym listening to the waves of the ocean, students should bring a beach towel to sit on. We welcome parents joining us for the day to participate alongside their children. Please note that this will be a no technology day. We encourage students to leave all their devices at home (or in their locker) for the day.
On behalf of the staff at Holy Redeemer we wish you and your families a safe and fun spring break!
God bless,
Mr. Rachmistruk
Principal
Upcoming Important Dates:
March 20 - Health and Wellness Day

March 18-21 - Jump Rope for Heart money due

March 19-20 - Parent/Student/Teacher conferences

March 22 - Spring Break begins (no school)

April 3 - Spirit Day (Career Day - dress in a career you'd like to aspire to be)
Information
Please find attached the March snack schedule for our nutrition program:
OLPH Parish news: To accommodate for the open house at St. Theresa School on Monday, March 18th a make-up session for those parents who chose the 3 evening option for their Confirmation retreat has been added. The make-up session will be on Monday, April 8th from 6:30pm-8:00pm.

Book Fair: Mrs Corbin is hosting a Scholastic book fair in the library. The book fair will be open in the mornings (from 8am to the end of first recess) for classes, or students with teacher permission, to come and preview and/or purchase books, and again after school during parent-teacher interviews (Tues & Wed. from 3:00-6:15pm). This is a wonderful opportunity to support your child's love of reading and our Holy Redeemer library as each book purchased will contribute to new books for the library.
Faith Corner
In honour of St. Patrick, may we always put Christ first.
Christ be with me, Christ before me, Christ behind me, Christ in me, Christ beneath me, Christ above me, Christ on my right, Christ on my left, Christ when I lie down, Christ when I sit down, Christ when I arise, Christ in the heart of every man who thinks of me, Christ in the mouth of everyone who speaks of me, Christ in every eye that sees me, Christ is every ear that hears me.
Amen.