School News
May 6 - 10, 2019
Posted on

May 6th, 2019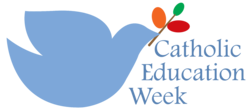 Dear Parents,
This week we are celebrating Catholic Education week. This provides us an opportunity to publicly celebrate our mission, our successes, our students, and our future together in service of the Gospels. Thursday is World Catholic Education Day. We encourage everyone to wear blue on this day.
On Tuesday, May 7 our grade 8 farewell committee will be selling popcorn to our students for $2.00/bag. Please have your child bring a twoonie that day. The money raised will be used toward their farewell celebration on June 14.
Track and Field day (for grades 4-8) will be held on Tuesday, May 14. In order for this day to run smoothly, we are looking for 3 parent volunteers per class. A letter was sent home with students last week. Please let your child's homeroom teacher know if you can assist. Thank you in advance for your help.
God Bless,
Peter Rachmistruk
Principal
Upcoming Important Dates:
Please find attached a May calendar for your reference:
May 6-10 - Catholic Education Week (wear blue on Thursday)

May 9 - Kindergarten/Pre K Mother's day tea

May 10 - Grade 6 to Legislature (all day)

May 14 - Track and Field Day (grades 4-8)

May 15 - Peoples of the North field trip (grades 4-5 all day)

May 17-23 - Quebec trip

May 17 - PD day (no school)

May 20 - Victoria Day (no school)

May 23 - Josephburg Agricultural Society field trip (grades 4-5 all day)

May 28 - Prayer assembly (Month of Mary) - lead by grade 6 class

May 30 - West Ed Oceans Adventure field trip (K-1 all day)

May 31 - Cooking Lake field trip (grade 6 all day)
Information
Please find attached the May snack schedule for our nutrition program:
Registration for all new students (including our Pre-K program) is now open. If you are returning to Holy Redeemer, there is no need to register. Returning students will automatically be registered. To register your child or to direct a friend or relative to register their child please go to our division website to register: https://www.eics.ab.ca/parents-and-students/school-registration

We have a new sign! Our sign has been retrofitted to fit thematic poster style messages. 
Faith Corner
Prayer for Catholic Schools:
O Christ, our Teacher, We thank you for the gift of Catholic schools, where the message of your life, death, and resurrection is proclaimed, discipleship is modeled, worship of you is cultivated, and community is experienced.
Increase our zeal for ensuring that all children and families can benefit from an authentic Catholic education, and that Catholic schools grow in their ability to nurture the souls and form the minds of its students for generations to come.
We ask this through Christ our Lord.
Amen.