Pre-Kindergarten
Pre-Kindergarten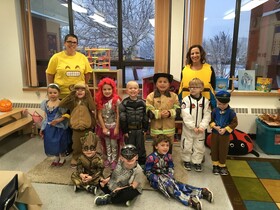 Holy Redeemer's Pre-Kindergarten program is a Catholic faith infused, student centered, play based program in a literacy and numeracy rich learning environment. Our Pre-Kindergarten program supports all students to learn and grow by working along side our experiences and caring staff.  Our Pre-Kindergarten program strives to ensure all students enjoy their first school experience and are excited to work and learn with their friends.  This program is half days (three hours) on Mondays, Tuesdays, Thursdays and Fridays for mornings (8:15 - 11:15 AM) or afternoons (12:15 - 3:15 PM).
(Age requirement is 4 years old by December 31, 2018) 
Fees: Community students - $200.00 per student per month, Program Unit Funded (PUF) students – no cost
Teacher: Mrs. Andrea Boyle
Educational Assistant: Mrs. Diana Chrystian
If you would like to visit our school and schedule a tour, please contact our principal, Mr. Peter Rachmistruk,  by email peterr@eics.ab.ca or by phone at 780-922-4522.
More information regarding Elk Island Catholic Schools Pre-Kindergarten Programs:
Vision Statement:  We believe that early childhood programming provides a solid foundation for learning and fosters creative, inquisitive, confident learners.
 Mission:
EICS supports strength-based, faith-based early childhood programming
EICS provides resources (people, time and funding) to facilitate successful early childhood programming
EICS has a shared philosophy and unified vision for early childhood programming
EICS has a cohesive community of early educators who co-create and collaborate with parents, school staff, and children
EICS early education staff have a united understanding of curriculum expectations and work together towards realistic and achievable outcomes and goals
EICS supports inclusive planning and practice with developmentally appropriate activities and environments to help build on the strengths of every child.
EICS supports purposeful play-based early childhood programming and is responsive to the emergent interests of children
EICS supports childhood programming that is developmentally appropriate, responsive, flexible, safe, fun and engaging.
Early Childhood Links
Galileo
http://galileo.org/earlylearning/
Alberta Education
Programming for Children with Special Education Needs
https://education.alberta.ca/early-childhood-education/early-childhood-services/
CMEC Statement on Play Based Learning
https://education.alberta.ca/media/1626383/cmec-play-based-learning_statement_en-2013.pdf
The First Six Years
https://education.alberta.ca/early-childhood-education/childhood-development/
PUF Programming
PUF enrolment "How To's":
Contact Marg Schimpf and Parveen Kalirai, Early Learning Consultants at prekpufinfo@eics.ab.ca
Provide Marg and Parveen with a copy of the most recent assessment. The report(s) can be scanned and e-mailed to her at prekpufinfo@eics.ab.ca OR faxed to them at 780-467-5469.
When funding eligibility is confirmed by Marg and/or Parveen, complete the Registration 2019-2020.  Your registration will be automatically confirmed.
*There are no school fees for children eligible for Program Unit Funding (PUF) services.*