Our School
About
Holy Redeemer Catholic School is committed to helping our students know and live the gospel. We will promote:  A life centered in Jesus Christ based on gospel values, academic excellence, a healthy lifestyle, responsibility, faith and a sense of community.
Principal
Principal - Mr. Ed Kucy
Motto
Learning and Growing
Philosophy
We Believe:
In God and the gift of children. In Jesus Christ as our role model. In the Holy Spirit who guides us in living our Catholic faith. In honouring and celebrating human uniqueness and potential. Supporting one another as members of our school community. In learning as a lifelong journey.
Beliefs
Our Beliefs

• That Jesus Christ and his teachings are the foundation and core of our Catholic School Division.
• That a quality education is a continuing process that develops the whole person in an environment which encourages success.
• That we live out the Catholic faith through our words, our actions and our interactions.
• That Catholic education is a shared responsibility between the home, the school, the parish and the community.
• That education is a lifelong journey during which excellence is actively pursued.
• That everyone has worth and dignity as a unique creation of God.
Programs and Services
Nature Kindergarten
Junior University (Grades 1-4)
Academy Programs (5-8)
Career and Technology Foundations Programs (5-8)
Our School & Staff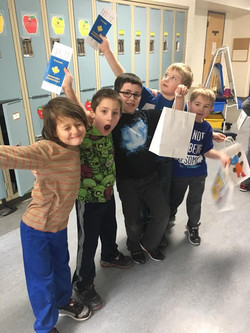 Holy Redeemer Catholic School (HRCS) resides within the family of Elk Island Catholic Schools (EICS) and is part of Alberta's publicly-funded education system.   Located in rural Strathcona County, HRCS is an elementary/middle school, providing 21st century, quality Catholic education for students in Kindergarten to Grade 8. HRCS is a partnership of home, school and parish, committed to providing a safe, caring, respectful learning environment.  At HRCS all students can achieve success as learners, develop positive learning habits and enjoy spiritual and personal growth.   As dedicated stewards of education, our commitment to students is demonstrated through events, activities and interactions that focus on learning, self-awareness, faith-formation and healthy living.