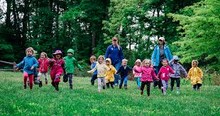 2023-2024 Nature Pre-Kindergarten (Brochure)

2023-2024 Nature Kindergarten Brochure to learn more

EICS Pre-Kindergarten Information


REGISTRATION OPENS FEBRUARY 1ST!
Nature-Based Pre-Kindergarten (4-year-old) Program 2023-2024
Our little learners will become our little explorers as they take their learning outside for a portion of their day, engaged in meaningful ways with their body, mind and spirit while engaged in a nature setting.
In the classroom setting, Pre-Kindergarten is designed to increase communication, socialization, and learning readiness (pre-printing, fine motor, and gross motor skills) for successful entry into Kindergarten. The program provides children with a wide variety of learning experiences in a literacy/numeracy-rich environment.
Program Details
CHILD MUST BE 4 YEARS OLD BY DECEMBER 31 TO REGISTER
PROGRAM INFORMATION:
Monday to Thursday- AM only (8:30-11:30)
No Fund-raising required
Cost: $125.00/month (Parent Fee Funded Tuition)(The program is planned and implemented by a Program Assistant that is supported by at ATA Certified Teacher.)
*Note: Price and space may change subject to enrollment
Transportation:  Transportation may be available for students attending a Pre-Kindergarten program.  This is to be confirmed by EICS.
As part of the well-rounded curriculum, the program includes exploration in the following important areas of early childhood development:
Literacy
STEM/Tinkerlab
Sensory Exploration
Numeracy
Dramatic and Imaginative Play
Fine and Gross Motor Movement